A/C not running like it use to???

Air conditioning systems are a necessity for the Texas summers, but your A/C could become a money pit in operating costs if not kept in proper condition. A poorly maintained A/C will severely decrease in efficiency, resulting in higher electric bills and the high potential of a breakdown. Use the following tips and tricks to keep your A/C efficient and reliable.

1. Preventative Maintenance

One of the best things for your A/C is regular service checks. These checks help to ensure that your A/C system is running strong and efficient. These checks also look for the potential of costly major issues that could be heading towards your system. These include the possibility of failing compressors, motors or leaking coils. Preventive maintenance should be done twice a year; once in the Spring to check the outdoor unit and once in the Fall to check the indoor unit. To schedule an appointment for preventative maintenance, please call the main office at (817) 847-0323

2. Regular Filter Changes

A clean air filter can make a great difference on the effectiveness and efficiently of your A/C system. A past due filter can restrict the air flow and drastically decrease the efficiency of your unit. Not changing the filter will result in a dirty system. The frequency of filter changes varies greatly based on external conditions and the properties of the filter itself.

---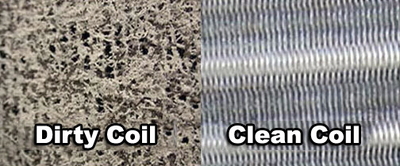 3. Clean Coils
In order for your A/C system to function correctly, it is important that air can flow through both the indoor and outdoor coils effectively. A dirty coil will cause your A/C to not work properly and make it more expensive to run. The indoor coil is something that only a trained A/C tech can clean. The route in which it is cleaned varies and the route necessary determines the cost. For a cleaning estimate on your indoor coil, please visit our
service
page. The outdoor coil is something that we can do or something that you can do yourself. It is a simple process that when done correctly and regularly, can save you tons on energy cost. Simply turn off the outdoor unit and rinse off the coil with an open water hose. Nozzles provide too much pressure and can damage the coil. Simply using your thumb to increase the pressure ever so slightly is enough to clean the coil. Wash the coil from the top down until the water flowing out is clear. Turn the unit back on and you're all done.
---
---
Free Estimates on New System Installation!